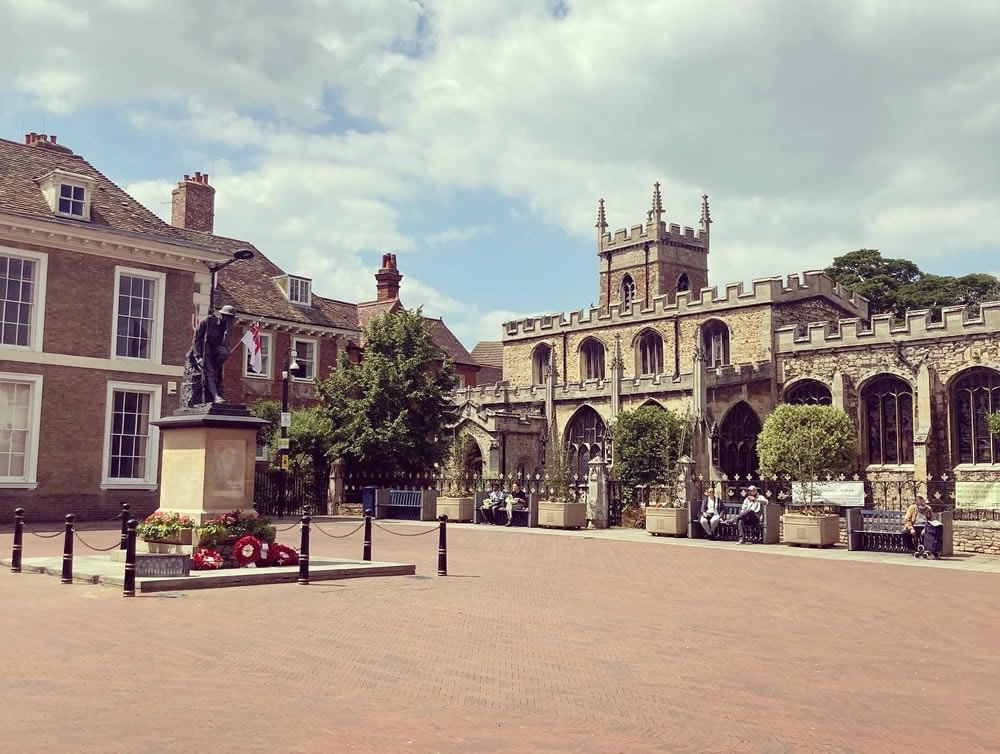 Huntingdon is one of Cambridgeshire's best-loved locations. It's famous for being the birthplace of Oliver Cromwell, and there are several historic buildings in and around the town, which give it plenty of character.
It is a popular location for people of all ages, thanks to its proximity to Cambridge, plus its great local amenities and riverside walks. The housing market is varied here, with everything from characterful cottages to stylish modern apartments on offer. Homebuyers will be delighted to see how competitively priced the properties are, given the desirability of the area.
The station has trains running to London King's Cross throughout the day, and the proximity to the A14 means Cambridge can be reached in around half an hour. This is ideal for those who work in the city, or who want to make the most of the attractions on offer in the two cities.
Properties in Huntingdon
Huntingdon has a wide array of properties on offer, with something to suit every budget. They are reasonably priced when compared to the county average, and homebuyers can generally get more for their money here.
At the upper end of the market, you'll find a selection of large, detached homes, which usually come with plenty of land, plus a driveway. The most sought-after tend to be the period cottages, especially those with thatched roofs and exposed beams. These properties are most commonly found in the areas surrounding Huntingdon, such as Hemingford Abbots or Godmanchester.
There are some lovely semi-detached properties on the market too. Towards the centre of town, you'll find a number of Victorian homes, while further out, there are some excellent new-build houses which have parking, outdoor space, and open-plan kitchen-diners.
In the heart of Huntingdon, there are several terraced houses, with many dating from the Victorian and Edwardian periods. These typically have original features, such as fireplaces and bay windows, and are conveniently close to the station and the shops.
First-time buyers will be pleased to note that there are several studio and one-bedroomed apartments available too. These are usually in purpose-built blocks, and are generally light, airy and spacious. If you're looking for a property like this, explore the town centre.
Things to do in Huntingdon
There are plenty of activities to keep the whole family entertained in Huntingdon. If you love history, you will enjoy The Cromwell Museum or Houghton Mill, which is now managed by The National Trust. Hinchingbrooke Country Park is a firm favourite with locals too. It's a beautiful scenic spot and is ideal for walking the dog or enjoying a picnic in the sun. Grafham Water Park is also great for nature-lovers, with its two cafes, kids' playgrounds, and regular events running throughout the year.
For a fun afternoon out, you may want to visit Huntingdon Racecourse and place a bet on the horses. The golf club at Brampton offers another great way to unwind at the weekend and is perfect for golfing fanatics.
When it's cold outside, there's always Cineworld, which is just on the outskirts of town in Tower Field Leisure Park. There's a range of restaurants and fast-food chains here too, so cinema-goers can grab a bite to eat before the film.
Amenities in Huntingdon
Huntingdon is a bustling market town, and this is reflected in its wealth of amenities.
In the town itself, you'll find many familiar High Street brands, such as WH Smiths, Boots, TK Maxx and more. There are also some great pubs in the town and the surrounding area, such as The Crown Inn, and The Wheatsheaf, which can be found in West Perry. The Pheasant Inn is a classic British pub, and the perfect place to enjoy an evening meal with friends.
There are numerous supermarkets on the doorstep plus plenty of convenience stores. If you like to keep fit, you'll enjoy the facilities at One Leisure, which include a swimming pool, fitness suite and outdoor pitches.
The local train station is located on Brampton Road, with trains taking approximately 50 minutes to reach Central London. Alternatively, the A1 and A14 make it easy to get to Cambridge and Peterborough – which are both great places to visit if you fancy a change of scenery.
Huntingdon also has some high-performing primary and secondary schools. Hinchingbrooke School and St Peter's School are both excellent, and several of the primary schools were rated either Good or Outstanding in their most recent Ofsted reports.